It is a place where trees are grown for scientific, educational and display purposes.
It comes from the Latin word arbor meaning tree. Most trees in an arboretum are allowed to 'stand alone' – to thrive in a setting free from the fierce competition of their natural environment.
Scottish-born botanist, designer of gardens and cemeteries and garden magazine editor, John Claudius Loudon (1783 – 1843) is credited with being the first person to use the term arboretum in writing. The concept of the study of collections of trees goes back much further. Ancient civilizations, such as the Egyptians, were known to collect, care for and study exotic trees from foreign lands.
The history of Sherwood Arboretum
Sherwood Arboretum is one of a kind in Brisbane. This inviting 15ha botanic treasure led the way in 1925 as our city's first Arboretum devoted to Australian native trees.
Sherwood Arboretum was a pacesetter when founded on the 21 March 1925. It was well ahead of its time by its virtual exclusion of exotic (non-native) trees. Many Australian botanic gardens and arboreta had a strong focus on exotic trees in the 1920s and much later.
Sherwood Arboretum is a heritage-listed arboretum with a collection of more than 1000 specimen trees, some rare and endangered, spread across seven planting precincts, ranging from wet rainforest to open eucalypt forest.

The Arboretum's 'Sir Matthew Nathan Avenue' is one of the few examples in Australia where a wide cross-section of the community came together to plant an avenue of trees to mark the opening of an arboretum or botanic gardens.
The Arboretum sits alongside Brisbane Botanic Gardens, Mount Coot-tha and City, as one of the three most significant botanic collections in Brisbane.

Unlike memorial avenues for the fallen in wars, this avenue records each person, from the State Governor, Sir Matthew Nathan and eminent scientists to pioneering families and a local storekeeper, who planted the 72 Queensland Kauri Pines Agathis robusta in 1925. The avenue provides a unique historic record just before the creation of Greater Brisbane (one Local Government body) on 1 October 1925.
Circa 1911
Retired bank manager, George Ranken and wife Anna-Maria brought the fertile floodplain land, part of
1922
Government Botanist, Cyril Tenison White recommended the need for an arboretum; Ernest Walter Bick, Curator
1922 – 1923
Possible sites, including Victoria Park and One Tree Hill (Mount Coot-tha), were considered.
1924

Sherwood Shire Council purchased the river frontage from the Ranken family for park purposes.
22 July 1924
Sherwood Shire Council 'heartily approves' of the use of this land for the city's new
21 March 1925

Queensland Governor, Sir Matthew Nathan and William Jolly, the first Mayor of Greater Brisbane, joined
21 August 1925
Sherwood State School students planted 100 trees. Community support for the Arboretum had begun.
1946

Additional land, east to Dewar Terrace, was added to the Arboretum.
1974 – 1975
Council undertook major improvements, including creating two protected islands in the wetlands.
In December 2015, Brisbane City Council placed the Arboretum's collection of Australian native trees under the professional care of the Curator of Brisbane's Botanic Gardens.
The last time this happened was in July 1957. Cr Matthew Bourke, then Chairman of Council's Environment, Parks and Sustainability Committee, summed up this very welcome decision this way:
'This is simply the right thing to do if we are ensure Brisbane's heritage-listed Arboretum is to remain an inviting and valued treasure for many future generations of residents and visitors to enjoy.'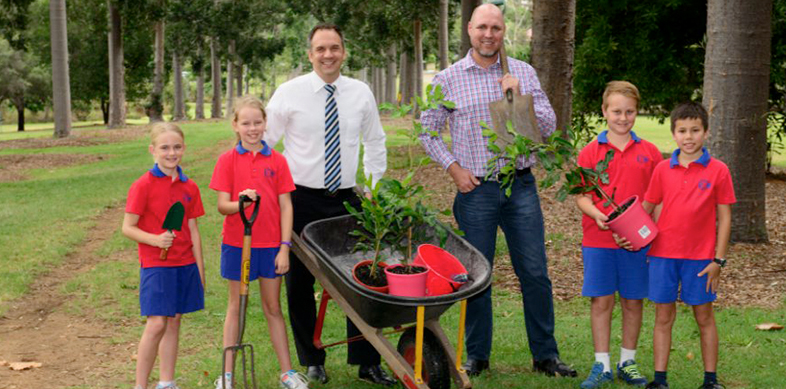 Cr Matthew Bourke and Curator, Mr Dale Arvidsson share the good news with Sherwood State School students, Ruby, Sophia, Zac and Brendan. Mr Arvidsson was appointed Curator of Brisbane's Botanic Gardens in early 2015.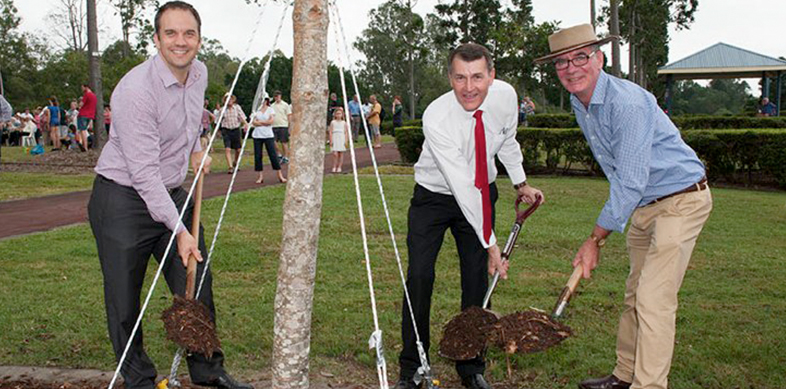 Brisbane Lord Mayor, Cr Graham Quirk, Cr Matthew Bourke and Mr Ross McKinnon replant tree number 71 in the Kauri Avenue. Mr McKinnon was Brisbane Botanic Gardens Curator for 31 years.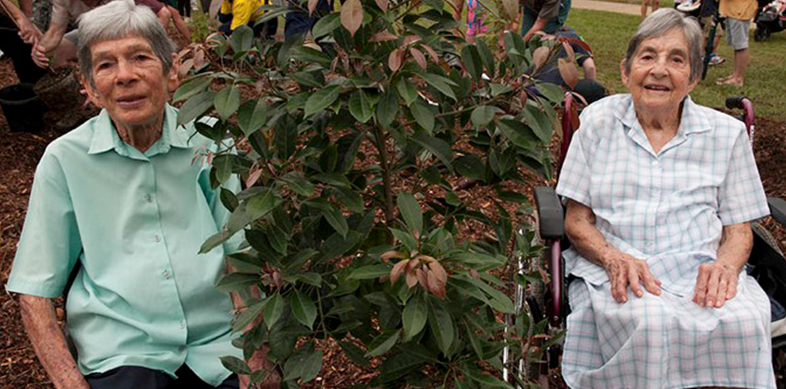 Mrs Betty Rowles and Mrs Margaret Hughes, daughters of Council's first Arboretum caretaker, Mr William Hodgson, plant a tree in the 90th anniversary grove.
Please join us as a Friend of Sherwood Arboretum.
Many people value the Arboretum. Maintaining this strong community voice is important to the future of this special place.